Listen to WRJN with Alexa!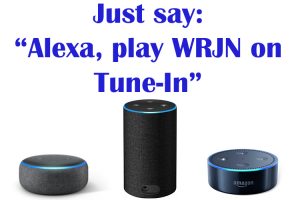 WRJN Weather
Tuesday

+

70°

+

55°
Wednesday

+

73°

+

54°
Thursday

+

66°

+

53°
Friday

+

71°

+

56°
Saturday

+

72°

+

57°
Sunday

+

68°

+

56°
As flights are canceled amid coronavirus, officer sues United Airlines for refund

April 7, 2020

iStock/aapsky(MINNEAPOLIS) -- As airlines continue to slash flights amid the novel coronavirus outbreak, a police officer from Minnesota is suing United Airlines over a rejected ticket refund claim.Passenger Jacob Rudolph filed the lawsuit in Chicago federal court on Monday after he claims the airline refused to refund three tickets he purchased in January totaling $1,521.45. […]

'Hot mess': Small businesses besieged by problems getting coronavirus loans

April 7, 2020

iStock/nathaphat(WASHINGTON) -- Michael Shemtov is struggling to keep his small cafe in Charleston, SC, afloat. He has already shuttered nine of his restaurants in that state and Tennessee amid the financial fallout of the coronavirus pandemic, with a total of 300 staff now out of work through no fault of their own.For Shemtov, who is […]

Coronavirus economic updates: Markets see opening spike, building off Monday's steep rally

April 7, 2020

Sushiman/iStock(NEW YORK) -- The coronavirus pandemic has quickly evolved from a health crisis to a financial one, shuttering businesses, upending entire industries and sending financial markets reeling.Here's the latest news on how the COVID-19 crisis is affecting the economy. For more on financial resources available during the pandemic, click here.Twitter co-founder pledges $1 billion from […]
Ryan Reynolds tweets "weirdly appropriate" scene from 'Free Guy', given COVID news cycle

April 7, 2020

20th Century Pictures(LOS ANGELES) -- Ryan Reynolds continues his dominance of feel-good COVID-19-era social media, to give us more to smile about during the lockdown.  This installment comes via what he tweets is a "weirdly appropriate" clip of his movie Free Guy, the release of which was bumped from July 3 to December 11, because of the pandemic.  The hook of the […]

'The Nanny' cast reunites for a Zoom read-through of the show's first episode

April 7, 2020

CBS via Getty Images(LOS ANGELES) -- The cast of The Nanny reunited Monday to raise the spirits of fans who are in quarantine during the COVID-19 coronavirus pandemic. In the video, entitled The Nanny Episode 1: Pandemic Table Read, the sitcom's co-creator and star, Fran Drescher, was joined for a table read of the premiere episode by her ex-husband and co-creator, Peter Marc […]

Alec Baldwin and wife, Hilaria pregnant again, 4 months after miscarriage

April 7, 2020

Walt Disney Television/Yolanda Perez(NEW YORK) -- Congratulations are in order for Hilaria and Alec Baldwin who are expecting their fifth child. The 36-year-old announced the exciting news by sharing a sweet video of their baby's ultrasound with her Instagram followers on Monday.  "I'll let the baby do the talking because I don't have the words to express how this sound makes […]
Sign Up for the WRJN Club
Mike Clemens in the Morning!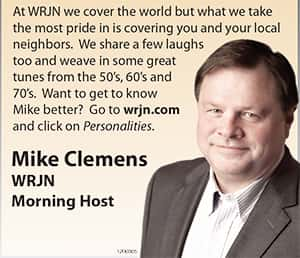 Facebook