Listen to WRJN with Alexa!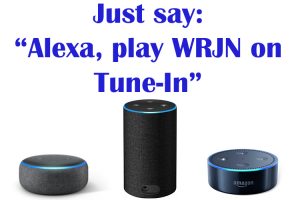 WRJN Weather
Tuesday

+

70°

+

55°
Wednesday

+

73°

+

54°
Thursday

+

66°

+

53°
Friday

+

71°

+

56°
Saturday

+

72°

+

57°
Sunday

+

68°

+

56°
Hanx hoax! Tom Hanks isn't hawking CBD online

January 23, 2020

ABC/Randy Holmes(LOS ANGELES) -- Tom Hanks called out an advertisement using his image to promote CBD on Tuesday, calling the ad in question a "false and an intentional hoax."The ad from an undisclosed company appears to promote "CannaPro CBD" and features a photo of the actor, alongside a fake quote attributed to him."The advances Dr. Oz […]

It's official: The Ghostbusters are back for 'Afterlife'

January 23, 2020

"Ghostbusters" - Columbia Pictures(LOS ANGELES) -- The boys are back!  As rumored, Bill Murray, Dan Aykroyd and Ernie Hudson will once again strap on their proton packs in the upcoming film sequel Ghostbusters: Afterlife. The news was confirmed in a new Vanity Fair interview with  Murray, who of course played sarcastic parapsychologist Dr. Peter Venkman […]

'Modern Family' star Jesse Tyler Ferguson and husband are expecting their first child

January 23, 2020

ABC/Robert Ashcroft(LOS ANGELES) -- Jesse Tyler Ferguson and his husband, Justin Mikita, are expecting their first child. The Modern Family actor announced the exciting news during an appearance on The Late Late Show with James Corden Thursday night. "Actually, this is something I haven't even mentioned to anyone --- if we could just keep it between […]
Cashless stores and restaurants banned in New York City

January 23, 2020

SolStock/iStock(NEW YORK) -- Cash will remain king in Big Apple stores and restaurants.The New York City Council will vote Thursday to prohibit businesses from only accepting credit card, debit or digital payments. There were concerns from elected officials that such stores and eateries discriminated against poorer customers who don't have access to bank accounts, according […]

Tinder is adding a panic button to its app for dating emergencies and cracks down on catfishing

January 23, 2020

iStock/Wachiwit(NEW YORK) -- Tinder announced a slew of new safety features Thursday, ranging from letting users call emergency services while on a date to a photo verification system that ensures "every match is who they say they are."The updates come a little over a year after headlines about a suspected dating site serial killer rattled […]

Sin City changes famous 'What happens here, stays here' slogan

January 23, 2020

georgeclerk/iStock(LAS VEGAS) -- For years visitors have come to know that what happens in Vegas, stays in Vegas -- but now Sin City's slogan is getting an update.The award-winning campaign -- "What happens here, stays here" first created in 2002 -- will reportedly change to "What happens here, only happens here."The new tourism slogan is […]
Sign Up for the WRJN Club
Mike Clemens in the Morning!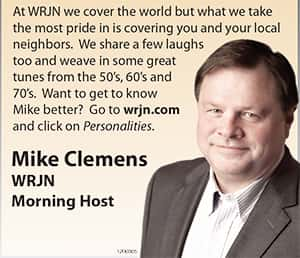 Facebook