Listen to WRJN with Alexa!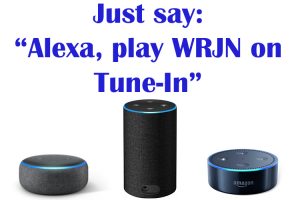 WRJN Weather
Tuesday

+

70°

+

55°
Wednesday

+

73°

+

54°
Thursday

+

66°

+

53°
Friday

+

71°

+

56°
Saturday

+

72°

+

57°
Sunday

+

68°

+

56°
Jane Fonda arrested again at another U.S. Capitol climate protest

October 18, 2019

iStock/rarrarorro(WASHINGTON D.C.) -- Academy Award-winning actress Jane Fonda, 81, was arrested by police with a group of about a dozen protesters Friday after being warned repeatedly to leave the steps of the U.S. Capitol. Inspired by young climate activists like 16-year-old Greta Thunberg, Fonda recently told ABC News that every Friday while she's in the nation's capital, […]

"None of my kids want to be actors," says 'Maleficent' mom Angelina Jolie

October 18, 2019

Photo by Alberto E. Rodriguez/Getty Images for Disney(LOS ANGELES) -- While there are enough of them to make their own ensemble movie cast, don't expect to see Angelina Jolie's kids on the big screen. The Oscar-winner and Maleficent series star explains to People that Maddox, 18, Pax, 15, Zahara, 14, Shiloh, 13, and twins Knox and Vivienne, 11, have no […]

'Patsy & Loretta' star Megan Hilty says Lifetime film celebrates "true female friendship"

October 18, 2019

Jake Giles Netter(NEW YORK) -- In the new Lifetime movie Patsy & Loretta premiering this weekend, Broadway darlings Megan Hilty and Jessie Mueller star as two of country music's most beloved stars: Patsy Cline and Loretta Lynn. Instead of being rivals, the two singers formed a close bond as they took on the male-dominated music […]
As panic buttons become more common, some hotel workers say they are still waiting

October 19, 2019

monkeybusinessimages/iStock(BOSTON) -- Fatoumata Bah has worked in the hotel industry since 2001, when she immigrated to the country from Senegal. But she has not received a paycheck since early September when she and 75 colleagues walked off their jobs at a hotel in Boston and began a month-long strike.Top on the list of their demands: […]

Boeing pilots messaged about 737 Max issues years before 2 crashes killed 346

October 19, 2019

Robert Michaud/iStock(NEW YORK) -- Internal messages between two Boeing pilots appear to show the company knew about problems with an automated system in the 737 Max aircraft in 2016, two years before two separate crashes involving the Max killed 346 people. In a document obtained by ABC News, Boeing's chief technical pilot, Mark Forkner, told […]

Oracle Co-CEO Mark Hurd dies at 62

October 18, 2019

wellesenterprises/iStock(NEW YORK) --  Mark Hurd, a tech industry tycoon and the co-CEO of Oracle, died on Friday, according to co-founder Larry Ellison. Hurd was 62."It is with a profound sense of sadness and loss that I tell everyone here at Oracle that Mark Hurd passed away early this morning," Ellison wrote in a statement posted […]
Sign Up for the WRJN Club
Mike Clemens in the Morning!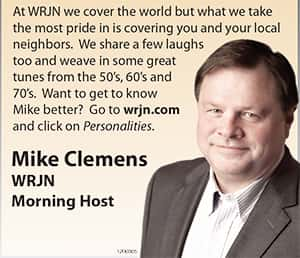 Facebook