Listen to WRJN with Alexa!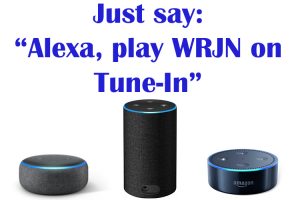 WRJN Weather
Tuesday

+

70°

+

55°
Wednesday

+

73°

+

54°
Thursday

+

66°

+

53°
Friday

+

71°

+

56°
Saturday

+

72°

+

57°
Sunday

+

68°

+

56°
'The Walking Dead' creator Robert Kirkman's sci-fi comic 'Oblivion Song' coming to theaters

June 14, 2019

AMC(NEW YORK) -- Robert Kirkman created the hit comic series The Walking Dead way back in 2008 -- two years before it became the hit AMC show of the same name. As previously reported, the zombie series is now being adapted into a big-screen trilogy, and now, another Kirkman project is getting the movie treatment. […]

Stana Katic delving into murky water, again, in second season of Amazon Prime's 'Absentia'

June 14, 2019

Photo Credit: ©2019 Sony Pictures Television. Image by Elena Nenkova(NEW YORK) -- The second season of the thriller series Absentia, starring former Castle lead Stana Katic  is now available for streaming on Amazon Prime. Castle, ABC's romantic comedy cop show in which she starred with Nathan Fillion, ended in 2016, but lives on worldwide in […]

"Plus One" stars Maya Erskine and Jack Quaid give their best tips for wedding season

June 14, 2019

Photo courtesy of RLJE Films(NEW YORK) -- Wedding season is upon us, and Plus One feels your pain. The romantic comedy stars PEN15 actress Maya Erskine and Jack Quaid, son of Meg Ryan and Dennis Quaid, as Alice and Ben, two old pals who decide to be each other's "plus ones" for a marathon of […]
Man with unknown identity convicted of stealing someone else's identity for more than 40 years

June 14, 2019

iStock/spyarm(BOSTON) -- A Massachusetts man whose real identity is not known was convicted Wednesday of using another person's identity for more than 40 years, according to federal prosecutors in Massachusetts. The suspect, referred to only as John Doe, is suspected to be a Dominican national, according to a news release from the U.S. Attorney's Office. […]

Registered sex offender in Nebraska used ride-share to bring a teen girl he met online to his home

June 14, 2019

iStock/jetcityimage(NEW YORK) -- A 34-year-old registered sex offender is facing charges that he befriended a 13-year-old girl on social media and then arranged for her to make the 200-mile journey to his home in Nebraska using the a ride-share app. Nicholas Avery was transported and booked at the Sarpy County Jail for first-degree sexual assault […]

Airbnb offering 80-day, around-the-world trip for $5k

June 14, 2019

Airbnb(NEW YORK) -- If you've ever dreamed about traveling around the world but figured you'd never have the time or money, your moment has come. Airbnb has announced the ultimate adventure: Around the world in 80 days for about $5,000.The site is celebrating the launch of Airbnb Adventures, previously known as Airbnb Experiences."Just like the […]
Sign Up for the WRJN Club
Mike Clemens in the Morning!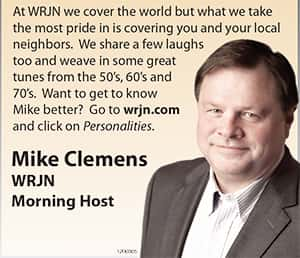 Facebook