Listen to WRJN with Alexa!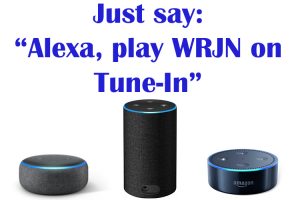 WRJN Weather
Tuesday

+

70°

+

55°
Wednesday

+

73°

+

54°
Thursday

+

66°

+

53°
Friday

+

71°

+

56°
Saturday

+

72°

+

57°
Sunday

+

68°

+

56°
Experts warn about big dollar fraud in $2.2 trillion coronavirus relief package

April 4, 2020

piranka/iStock(NEW YORK) --The U.S. government's historic $2.2 trillion coronavirus aid relief package recently approved by Congress is highly vulnerable to fraud and abuse, oversight experts and veteran watchdogs who investigated abuse of the government's financial system bailout more than a decade ago told ABC News. The size of the unprecedented relief package – in the scale of […]

Hobby Lobby closes its stores after defying coronavirus stay-at-home orders

April 4, 2020

dbdurden/iStock(NEW YORK) -- Hobby Lobby finally closed all of its stores in the U.S. after the craft supplies company received backlash for staying open in at least one state amid the novel coronavirus pandemic. Nearly all of the store employees will be furloughed, as well as a large portion of corporate and distribution employees, according to a statement from […]

Coronavirus economic updates: US cuts 701K jobs in March, unemployment rate jumps to 4.4%

April 3, 2020

Gwengoat/iStock(WASHINGTON) -- The coronavirus pandemic has quickly evolved from a health crisis to a financial one, shuttering businesses, upending entire industries and sending financial markets reeling. Here's the latest news on how the COVID-19 crisis is affecting the economy: Markets close out another volatile week The Dow Jones Industrial Average fell more than 350 points […]
Jordan Peele's 'Candyman' postponed until the fall due to COVID-19

April 3, 2020

Universal Pictures (LOS ANGELES) -- Jordan Peele's remake of the 1992 horror classic Candyman has joined the long list of films whose releases are being postponed due to the COVID-19 pandemic shuttering theaters. Variety reports the release was pushed back from June 12th to September 25th.  Directed by Nia DaCosta, the film stars Yahya Abdul-Mateen II, Teyonah Parris, and Nathan Stewart-Jarrett from Misfits. The new film has […]

Need an at-home workout? Get your heart racing with Sunday's episode of Homeland

April 3, 2020

Showtime(NEW YORK) -- Now in its eighth and final season, Showtime's Homeland is as intense as ever: There's growing tension between Pakistan and the U.S. as Claire Danes' CIA operative Carrie Mathison tries to find the real culprit behind the deaths of two world leaders. True Blood star Sam Trammell stars on Homeland this season as the hawkish, inexperienced President […]

'Reading Rainbow''s LeVar Burton will read adult and children's stories aloud on Twitter Livestream

April 3, 2020

ABC/Randy Holmes(LOS ANGELES) -- LeVar Burton will stream his LeVar Burton Reads podcast on Twitter, reading adult and children's stories for families self-quarantining at home.  The first book he'll read is Neil Gaiman's 1989 short story We Can Get Them for You Wholesale, which Burton describes as Gaiman's "best" [work].  Burton, who starred in The Roots and Star Trek: The Next Generation, will host three weekly livestreams, doing […]
Sign Up for the WRJN Club
Mike Clemens in the Morning!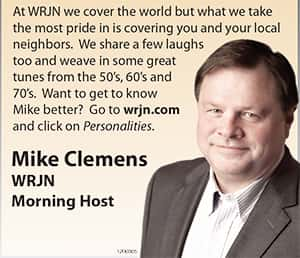 Facebook