Listen to WRJN with Alexa!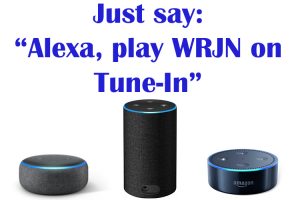 WRJN Weather
Tuesday

+

70°

+

55°
Wednesday

+

73°

+

54°
Thursday

+

66°

+

53°
Friday

+

71°

+

56°
Saturday

+

72°

+

57°
Sunday

+

68°

+

56°
Goldie Hawn, Diane Keaton, and Bette Midler to reunite for new holiday comedy

February 21, 2020

L-R: Bette Midler, Goldie Hawn and Diane Keaton in "The First Wives Club"; Getty Images(LOS ANGELES) -- It's not a First Wives Club sequel but that's not stopping fans of Goldie Hawn, Diane Keaton, and Bette Midler from celebrating the good news.  The ladies are teaming up once again for a brand-new movie. According to The Hollywood Reporter, the actresses […]

Weinstein jury asks judge if they can issue partial verdict; deliberations end for the day

February 21, 2020

Harvey Weinstein leaves court Friday afternoon; Spencer Platt/Getty Images(NEW YORK) -- Jurors in the Harvey Weinstein sexual assault case ended the day's deliberations Friday at 3:00 p.m. ET without reaching a verdict.  Before doing so, however, the jurors asked the judge about a partial verdict. "We the jury request to understand if we can be […]

Kylie Jenner blocked from trademarking daughter Stormi's name

February 21, 2020

Kylie Jenner with Travis Scott and daughter Stormi; Tommaso Boddi/Getty Images for Netflix(LOS ANGELES) -- Unfortunately for Kylie Jenner, not everyone is living in Stormi World. The 22-year-old make-up mogul recently hit a snag when she tried to obtain trademarks related to her and Travis Scott's two-year-old daughter's name, Stormi Webster. According to Page Six, a […]
Wells Fargo agrees to $3 billion settlement over fake accounts

February 21, 2020

wdstock/iStock(WASHINGTON) -- The U.S. Department of Justice and Wells Fargo have agreed to a $3 billion settlement that includes the bank admitting to wrongdoing.A criminal investigation into the company's actions found that from 2002 to 2016 Wells Fargo pressured employees to meet unrealistic sales goals, which led to millions of accounts being created without consent […]

'More sports cars': Jaguar's new design chief makes the case for fewer SUVs

February 21, 2020

Jaguar Land Rover(NEW YORK) -- Julian Thomson does not want to talk about SUVs.A perfect world for the 58-year-old Brit, who replaced Ian Callum last June as Jaguar's director of design, would include more sports cars and fewer trucks."I don't know, it's a mystery to me," he said when asked why crossovers and SUVs have […]

Spring airfare lowest in four years: How to spot a deal

February 21, 2020

npstockphoto/iStock(NEW YORK) -- What is considered a good deal when it comes to airfare during spring break?Depending on whether you're shopping for a domestic or international flight, the answer is $246 or $601. How to spot a dealAccording to Hopper, the flight prediction app, $246 and $601 are the average prices per ticket for spring […]
Sign Up for the WRJN Club
Mike Clemens in the Morning!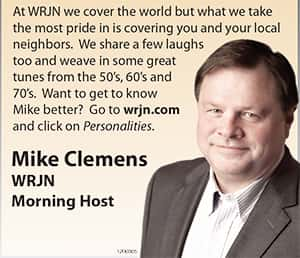 Facebook