Listen to WRJN with Alexa!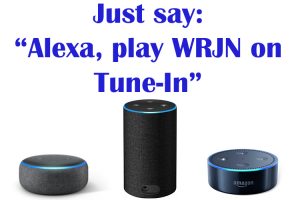 WRJN Weather
Tuesday

+

70°

+

55°
Wednesday

+

73°

+

54°
Thursday

+

66°

+

53°
Friday

+

71°

+

56°
Saturday

+

72°

+

57°
Sunday

+

68°

+

56°
"Who knew?" Eddie Murphy shares the worst advice he's ever received

January 21, 2020

ABC/Randy Holmes(LOS ANGELES) -- It's a good thing Eddie Murphy decided to forge his own path early on in his career, because according to the legendary comedian, he received some pretty "bad advice" when he first started out. In a new feature with W Magazine, Murphy reveals that the worst advice he's ever received was […]

Watch now: Mark Wahlberg & Winston Duke team up in 'Spenser Confidential' trailer

January 20, 2020

Netflix(LOS ANGELES) -- In the '80s, an ABC series called Spenser: For Hire -- based on Robert P. Parker's bestselling detective novels -- was a popular crime drama.  It starred the late Robert Urich as Boston private eye Spenser and Avery Brooks as his friend and enforcer, Hawk. Now, Netflix has reimagined the series as an […]

Ashley Graham welcomes a baby boy: "Our lives changed for the better"

January 20, 2020

ABC/Rick Rowell(LOS ANGELES) -- Ashley Graham has given birth to a baby boy. The model and her husband, Justin Ervin, welcomed their first child together on Saturday and shared the happy news on their Instagram Stories Monday. "At 6:00pm on Saturday our lives changed for the better," Graham wrote in the post, along with a […]
Climate change and inequality loom large as the powerful descend on Davos

January 21, 2020

makasana/iStock(DAVOS, Switzerland) -- The world's political and economic elite are descending on the small Swiss Alps town of Davos this week for the annual World Economic Forum meeting where they hope to set this year's "global, regional and industry agendas." Approximately 3,000 people will be attending this year -- from President Donald Trump to German […]

Couple used side hustles to pay off $114K debt

January 21, 2020

Pineapple Studio/iStock(NEW YORK) -- Anthony and Jhanilka Hartzog paid off a debt of $114,151 in two years. When the couple realized they were in over their heads with their finances, they set a goal at the start of 2017 to pay off their debt by Jhanilka Hartzog's 30th birthday. They got to work by first […]

Tesla calls unintended acceleration complaints 'completely false'

January 21, 2020

jetcityimage/iStock(NEW YORK) -- Tesla is disputing claims that all three models of its electric vehicles could unexpectedly accelerate without the driver taking action. The car company issued a statement on Monday afternoon, saying a stock short-seller was behind the claims, which resulted in a National Highway Traffic Safety Administration inquiry over the weekend. Short-sellers are […]
Sign Up for the WRJN Club
Mike Clemens in the Morning!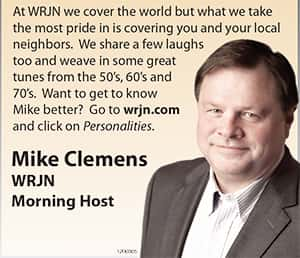 Facebook