Listen to WRJN with Alexa!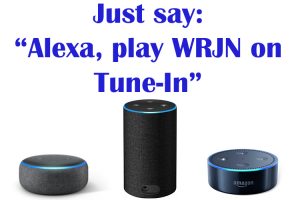 WRJN Weather
Tuesday

+

70°

+

55°
Wednesday

+

73°

+

54°
Thursday

+

66°

+

53°
Friday

+

71°

+

56°
Saturday

+

72°

+

57°
Sunday

+

68°

+

56°
Gabrielle Union says she had a "five-hour" meeting with NBC to "express her unfiltered truth" about 'AGT' firing

December 5, 2019

NBC/Trae Patton(LOS ANGELES) -- Gabrielle Union has met with NBC following the social media firestorm that occurred after she was fired from America's Got Talent over her reported complaints about alleged racism and other troubling behavior on-set. "We had a lengthy 5-hour, and what I thought to be, productive meeting yesterday," Union told fans on […]

Citing sanity and security, 'Star Wars' star Daisy Ridley won't Force herself to take fan selfies

December 5, 2019

Disney(LONDON) -- While taking selfies with fans seems part and parcel of modern-day fame, Star Wars: The Rise of Skywalker star Daisy Ridley isn't having it. In an interview with the Times of London, she admits, "I usually say: "I'm really sorry -- not today." She explained, "I'm not a big photo taker, and I […]

'Jojo Rabbit', 'Joker', HBO's 'Watchmen' honored with 2019 AFI Awards

December 5, 2019

L-R - Roman Griffin Davis, Taika Waititi /Photo: Kimberley French © 2019 Twentieth Century Fox Film Corporation All Rights Reserved(LOS ANGELES) -- Sam Mendes' World War I drama 1917, Joker and Taika Waititi's Jojo Rabbit were among the recipients of the American Film Institute's AFI Awards for 2019. The awards, "celebrate the year's most outstanding […]
Huawei calls FCC's order 'unlawful,' takes new legal action

December 5, 2019

Dafinchi/iStock(NEW YORK) -- Chinese tech giant Huawei is not backing down from an ongoing battle with U.S. regulators by taking new legal action on Thursday against the Federal Communications Commission (FCC) over an order it calls "unlawful."Huawei filed a court petition to overturn an FCC order from November that bans wireless carriers in rural America […]

Two Russian nationals indicted in alleged massive hacking, bank fraud scheme

December 5, 2019

sestovic/iStock(WASHINGTON) -- Two Russian nationals have been indicted on bank fraud and international computer hacking charges over an alleged decade-long scheme that "deployed two of the most dangerous financial malware ever used and resulted in tens of millions of dollars of losses to victims worldwide," according to the Department of Justice. Maksim Yakubets and Igor […]

US Postal Service creates new stamp to raise money for veterans with PTSD

December 5, 2019

US Postal Service (NEW YORK) -- A new stamp with a cause has sprouted up thanks to the U.S. Postal Service.The USPS announced Monday that it has issued a semipostal stamp that will help raise funds for people who have been diagnosed with post-traumatic stress disorder (PTSD).The stamp features a photographic illustration of a green […]
Sign Up for the WRJN Club
Mike Clemens in the Morning!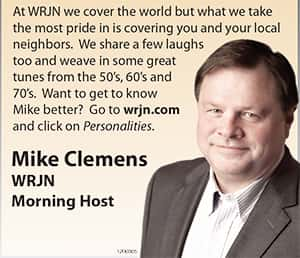 Facebook