Listen to WRJN with Alexa!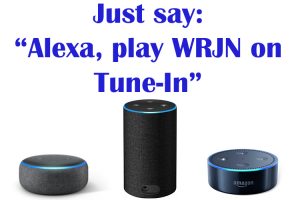 WRJN Weather
Tuesday

+

70°

+

55°
Wednesday

+

73°

+

54°
Thursday

+

66°

+

53°
Friday

+

71°

+

56°
Saturday

+

72°

+

57°
Sunday

+

68°

+

56°
'Watchmen' director on the show's "truly radical" casting -- and the actor she "couldn't believe" she got to work with

November 15, 2019

Mark Hill/HBO(NEW YORK) -- Director Nicole Kassell is no stranger to high-profile TV projects: After all, she's a veteran of shows ranging from Claws to Breaking Bad. And now her handiwork can be seen on HBO's new hit Watchmen, the small-screen sequel to the landmark graphic novel from Alan Moore and Dave Gibbons.  The show […]

'Mr. Robot's' new favorite villain Ashlie Atkinson talks playing a "joyous psychopath"

November 15, 2019

Jacqueline Patton Photography(NEW YORK) -- It may be the final season of USA Network hacker drama Mr. Robot, but the show still had time to introduce one last baddie. Ashlie Atkinson plays the show's new favorite villain, Dark Army operative Janice – and she's having a blast scaring the crap out of fans. "I just […]

Wayne Brady is not here for your 'Chappelle's Show' references: "I don't rest on past laurels"

November 15, 2019

Courtesy of Wayne Brady(NEW YORK) -- Wayne Brady wants you to know that he's accomplished a lot in his career. From being a staple on Whose Line Is It Anyway?, to hosting his own variety show and CBS' Let's Make a Deal, Brady has effortlessly conquered whatever he's set his mind to in television, film, […]
Nod Hill Brewery Is Connecticut's First Solar Powered Brewery

November 16, 2019

Nod Hill Brewery(Ridgefield, Conn.) -- Nod Hill Brewery in Ridgefield, Connecticut is the state's first and only 100 percent solar powered brewery. Started in 2017 by Rob and David Kaye, a father-son team, Nod Hill Brewery powers their equipment with a 287 kilowatt, 700 panel photovoltaic array on the roof of their building. The array […]

Twitter outlines sweeping details of ban on political ads

November 16, 2019

RomanOkopny/iStock(NEW YORK) -- Twitter unveiled its new wide-reaching policy regarding political ads ahead of 2020, after co-founder and CEO Jack Dorsey announced the platform would ban political advertising as social media giants grapple with the veracity and influence of online ads. The policy outlines how the changes will apply to the political sphere and defines […]

United joins American and Southwest in extending 737 Max cancellations into March

November 15, 2019

Robert Michaud/iStock(NEW YORK) -- United is joining American and Southwest Airlines in extending cancellations tied to the Boeing 737 Max into March.The Federal Aviation Administration grounded the aircraft after it was involved in two crashes in Indonesia and in Ethiopia that killed a total of 346 people. Although the timing ultimately will be up to […]
Sign Up for the WRJN Club
Mike Clemens in the Morning!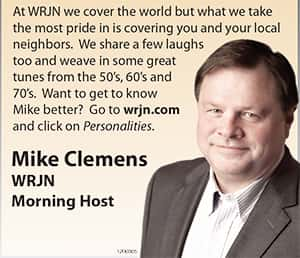 Facebook