Listen to WRJN with Alexa!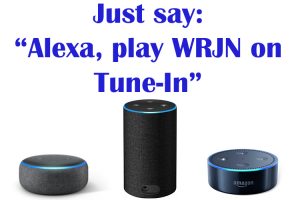 WRJN Weather
Tuesday

+

70°

+

55°
Wednesday

+

73°

+

54°
Thursday

+

66°

+

53°
Friday

+

71°

+

56°
Saturday

+

72°

+

57°
Sunday

+

68°

+

56°
Elizabeth Hurley on playing a witchy woman in 'Marvel's Runaways', and staying in super-villain shape

December 13, 2019

HULU(NEW YORK) -- Elizabeth Hurley had a blast playing super-powered baddie Morgan le Fay in the final season of Hulu's Marvel's Runaways, she tells Good Morning America. The show centers on five young people who've fled their super-villain parents. "Each of the five teens have some kind of power, but...I have every power," Hurley smiles. […]

Danny Aiello, Oscar-nominated for 'Do the Right Thing', dead at 86

December 13, 2019

Photo by Anthony Barboza/Getty Images(NEW YORK) -- Danny Aiello, a New York City-born character actor and veteran of stage and screen, has died, ABC Audio has confirmed. He was 86. "It is with profound sorrow to report that Danny Aiello, beloved husband, father, grandfather, actor and musician passed away last night after a brief illness," […]

Jennifer Esposito gets "real" with new movie 'Mob Town', and says fans of 'The Boys' will be "surprised" at season 2

December 13, 2019

Bleiberg Entertainment(NEW YORK) -- Former Blue Bloods cop Jennifer Esposito shows a different side of the criminal underworld in the new drama Mob Town, which debuts in theaters and video-on-demand today. The actress is from New York, but even the Brooklyn native was surprised to learn the plot of the period piece was based on […]
Samsung vice president sentenced to jail over union-busting, Korean media reports

December 13, 2019

iStock(SEOUL, South Korea) -- A vice president at Samsung Electronics was sentenced to a 16-month jail term in Seoul for his involvement in attempting to break up a labor union, according to local reports on Friday.Kang Kyung-hoon, an executive at South Korea's biggest company, was handed the sentence from the Seoul Central District Court for […]

Ford recalls more than 500K pickups over post-crash interior fire risk

December 13, 2019

iStock(DETROIT) -- Ford Motor Company announced a recall Friday of more than 500,000 pickup trucks over concerns that the carpet flooring could catch fire after a crash.The recall is centered on certain 2017-19 models of its Super Duty SuperCrew vehicles, according to Ford, the second largest automaker in the United States.In the affected trucks, the […]

How BMW grew South Carolina peach orchards into a car capital

December 13, 2019

BMW(GREER, S.C.) -- German automaker BMW took a chance 27 years ago when it purchased 900 acres of peach orchards in rural Greer, South Carolina.The once-booming area had collapsed along with the textile industry. Cheaper manufacturing overseas forced longtime mills to shutter and thousands of workers lost their jobs.Few locals had heard of the automotive […]
Sign Up for the WRJN Club
Mike Clemens in the Morning!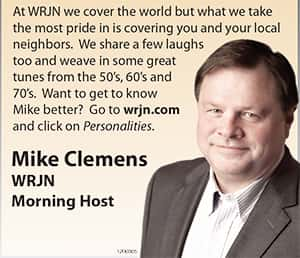 Facebook