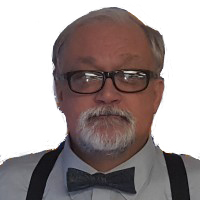 I have had a passion for news since 3rd grade when I took my first shot at publishing a newspaper. (First big headline – Today Is Chocolate Milk Day!) Jump forward to my college days at the University of Wisconsin – Madison where I spent a year as the Managing Editor of a Daily College newspaper.
My first radio experience came in 1986 as a volunteer host on a listener-supported public radio station in Rhinelander. Depending on the day, I read news, and played everything from Classical music to Bluegrass to Gospel to Metal. (Had to chaperone the kids who hosted the metal show after they got caught by the GM doing a little herbal show prep.)
I started working with Magnum in October of 1994, as the News Director in Tomah. With the acquisition of WIBU in 1998, I relocated to Poynette. As more stations were acquired, my role shifted to Operations Manager.
I moved to Eastern Wisconsin December of 2014 and have taken on the role of Group News Director, working to coordinate the efforts of the local news departments across the company.
My favorite place on the planet to visit is New Orleans. There's no place like it. I'm a good cook and better eater. I have way too many dvds.
The coolest thing I have ever been able to do as a reporter was spend a half hour on Willie Nelson's infamous Honeysuckle Rose tour bus talking about the FarmAid and politics.
One more cool fact – Joan Baez referenced an interview I did with her in college in her autobiography "And A Voice to Sing With." She described me as deadly serious.
Just one more – I once had coffee and a Danish with legendary Science Fiction author Arthur C. Clarke.
I have received awards for reporting from the Wisconsin Broadcasters Association, the Wisconsin Newspaper Association and the State Bar of Wisconsin.